Hello, friends and readers!
What's up, everybody? Are you ready to enter fictional worlds and share our favorite scenes? That's what I'm going to be doing today as I join Heidi at Along the Brandywine's monthly link-up,
Inklings
!
How it works:
1. At any time during the month, on your own blog post a scene from a book or film that matches the prompt, including a link back to the original post in your post.
2. Leave a link to your post in the comments section of the monthly post and she'll post all your links with the next prompt.
Click HERE to see all of the times that I have participated. Heidi's choice for this month is HERE where she gave this prompt:
March 2021's prompt: A scene involving a mirror in book or film
When I read this prompt my first thought was to do something from the book that I was reading, Keeper of the Lost Cities 3: Everblaze - by Shannon Messenger because that book was chock full of mirrors. It turns out that there were too many! I couldn't possibly ever chose which scene to include! It still was awesome, but I decided to think of something else. Next, I was musing about using something from all of the Snow White adaptations I've read or watched in my life. Eventually something won over this as it wins over everything.
Star Wars.
My pick is from the movie Star Wars episode VIII: The Last Jedi (2017). Though it is very controversial, I LOVE this movie and I love talking about it.
SPOILER ALERT! This scene happens about 3/4 of the way through the movie and it reveals a lot so don't read this post (or scroll because the pictures I'll use will give things away, too!) any further if you haven't seen that movie! I'm serious, it is in my top five favorite movies of all time so I don't want anything to mess up your experience of it.
Kylo Ren just told Rey that Luke had tried to murder him. Confused and alarmed Rey seeks out the dark part of the island: the place that she knows she can get an answer.
Rey walks to the edge then kneels down and looks in. A sound echos and she falls in with a yell to water down below.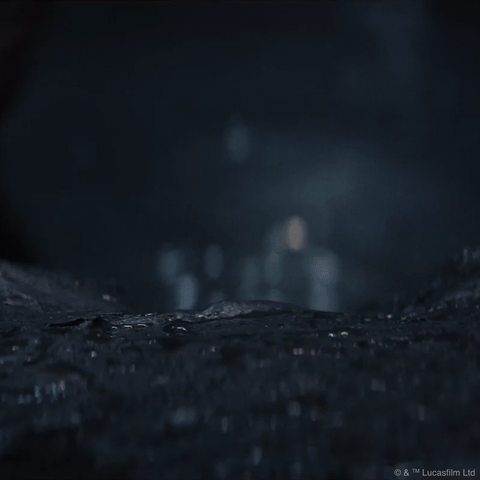 Emerging, she crawls on shore where she sees the mirror for the first time, but it's only when she reaches out and touches it that it changes from a dark reflection to an ongoing path.
From one direction everything is coming and in the other it is going, she can see as there is a millisecond delay, so she turns that way and raises her hand.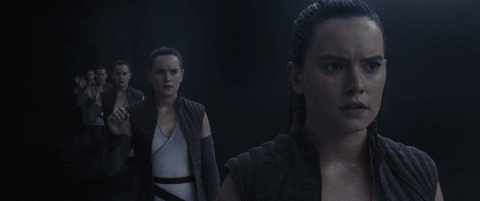 All of the others do after a pause that lengthens with each one. She snaps and the sound carries into the distance.



We hear Rey in a voice over: "I should've felt trapped or panicked, but I didn't. This didn't go on forever, I knew it was leading somewhere and at the end it would show me what I came to see."
She focuses on an action and follows it through by concentrating on where it will bring her. Through that she gets to the end with all other Reys that were leading up to this spot. Scared, but determined she steps forward, raising her hand to touch the glassy surface. We hear her words coming before she speaks them herself.

Let me see, let me see, let me see, let me see...
"Let me see,"
My parents, my parents, my parents, my parents...
"my parents."
Please, please...
"Please."
On the other side of the mirror silhouettes appear then converge into one. Rey is breathing heavily as the still dark form reaches for the mirror separating them. When the figure touches the mirror all of the frost and fog melts away and Rey sees...
Suddenly she is back where she started and she slumps to her knees.
Her voice over again: "I thought I'd find answers here. I was wrong."

We see her actually talking now, firelight cast on her face, instead of just her voice. "I'd never felt so alone."
A different voice: "You're not alone."
She looks up to see Ben Solo, aka Kylo Ren, who she's been talking to.
Rey: "Neither are you."
Rey slowly reaches up and offers her hand.
Ben pulls his glove off and reaches out.
We see Rey's hand in the hut...and Ben's coming towards hers.
Their hands brush together and thunder rumbles in the distance.
Through this Force connection they see each other's future.
Luke comes in and sees them sitting across from each other in the hut holding hands.
Luke: "STOP!"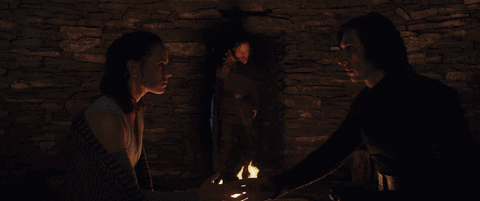 The Force in his hands blasts away the wall and we zoom in to him. Zooming out Rey looks and sees that Ben has vanished. The rain douses the fire and all warm lighting is gone.
This scene is so cool because we have a double mirror going! We have a literal mirror that Rey explores but we also see how Rey and Ben Solo reflect each other in different ways. Darkness rises with light to meet it. I love redemption character arcs, even if they take awhile, and here we see the start of Ben's!
This is one of my favorite parts of the movie so I went a little crazy with the photos. They filmed a lot of this movie in Ireland and...I actually went to the filming sites in 2018. Does this picture that I took look familiar?
Photo taken by MovieCritic
I'm sorry, I'm done now with obsessing. Make sure to check out the other entries HERE! Thanks to Heidi for continuing to host this!
Thank you to anyone who made it this far! Does anyone else love The Last Jedi like I do? If you don't, then please tell me why so we can discuss it! Have a great rest of your March, and happy Palm Sunday!
MovieCritic