Hey, guys!
Usually I review movies singularly, but today I'm going to be reading two at a time today because they are in a series. I know that this seems a little strange for me as I've never reviewed a Disney Channel Original Movie (DCOM), but I promise you that there is a method to my madness. Read on and find out why!
My guarantee: On ALL of my reviews there are NO spoilers unless I give you warning. These reviews are both spoiler free!
There is a darkness threatening to consume the land of Coventry. The king gives the last of his magic to his daughters in order to save them, and their guardians hide them away in the modern world. Both of them grow up separately until their guardians decided to bring them together on their 21st birthday, which is Halloween. At first they can't believe it, but through the day they spend time together and try to learn how to use their magic. They have had it their whole life, but never used it, with just a day's training will it be strong enough to defeat the darkness? They get scared, so will one of them have to do it alone?
Tia Mowry as Alex Fielding.
Jennifer Robertson as Illeana.
Jessica Greco as Lucinda.
Jackie Rosenbaum as Beth Fish.
Arnold Pinnock as David Barnes.
Karen Holness as Emily Barnes.
Kathryn Haggis as Housekeeper.
I was surprised because I thought that this was going to be really cheesy (and the CGI was), but it was actually really fun! First of all, I love that Alex and Cam are actually played by twins! I'm so used to twins being played by the same person, and the characters never have the same connection that real siblings do. Both of the characters Alex and Camryn felt so real! Their characters were consistent the whole time and the struggles and fears really fit in. It made so much sense how one character was really cautious at first then became more confident, and another was really enthusiastic in the beginning and got afraid later on. Well done!
Camryn and Alex are getting used to how this whole sister thing works. Camryn wants to learn how to use her magic and take responsibility with what she can, while Alex feels that she's missing something. She keeps writing strange stories, and she knows that all of her stories are true. Is someone calling to her? Who, and why?
(I'm sorry that I'm being super vague! That's how this whole second review will be because I don't want to give away spoilers for the first movie.)
Tia Mowry as Alex Fielding.
Kristen Wilson as Miranda.
Pat Kelly as Karsh.
Leslie Seiler as Illeana.
Karen Holness as Emily Barnes.
Arnold Pinnock as David Barnes.
Nathan Stephenson as Marcus.
Chris Gallinger as Demitri.
Jackie Rosenbaum as Beth.
David Ndaba as Felix.
Patrick Fabian as Thantos.
Jayne Eastwood as Mrs. Norseng.
Ah, sequels. It is rare that they are as good as the first, right? This was alright, but I just felt that the story was tacked on and so unnecessary. It was fun to spend more time with all of the characters, but some parts felt forced. I liked, though it was brief, to see the girls in college. It was weird that someone else was playing Illeana, but she did a fine job. I missed seeing some other characters that seemed to just be abandoned. Overall cute, but I won't be watching it nearly as much as I plan to see the first one.
Now you must be wondering, "MC, why in the world did you pick this?"
Great question.
How Alex and Camryn look isn't super recognizable. If I were to just show you photos of their costumes, even if it was exactly on point, it is very doubtful that you would be able to recognize them. But, what they wear is important to each other. Being identical twins it can be hard to tell them apart and how you can do that is by their clothing!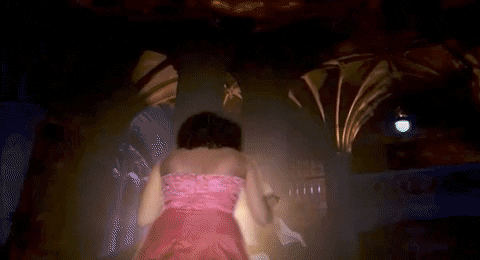 Do we look like them?