Hey, guys!
As I said in my last post, it has been a hot second. It has been such a long time since I've blogged consistently and I've missed it so much! Writing this post I already feel so much stress melt away (along with my time to do homework, but we're ignoring that). Blogging has been such a big part of my life for the last five years, and this was a wonderful way to celebrate by almost losing it all, eh? Let's try to fix that.
But, what's going on, MC? How is everything?
Basically, having infinite time for blogging spoiled me and now that I actually have to do things, any systems I had are being replaced by higher priorities. It's going to take me awhile, but I'll get used to it, and I'll get back to talking non-stop about books and movies. And commenting on all of what you guys are putting out into the world! And replying to the wonderful comments you have made on my posts! Thank you so much for being part of this journey with me! I hope you enjoy what I have coming up.
Starting off, I'll address the big thing. It has been so strange being out in the world after so many months of being isolated. There are all kinds of precautions being taken, but this is still me to myself, every single day:
Other than that, I'm really loving college. Not to say I'm on the Dark Side, but this is me everyday, too:
Because I am so eager and perky I tend to wave to everyone I see. And say "hey" obsessively.
That, of course, is on the inside. I'm much more sophisticated when talking out loud.
Or I would be, if I did. Usually I just sit confused and finally catch on.
Other student: "You said to use any resources we had for the quiz."
Professor: "I did say that, didn't I?"
Me, realizing I submitted something in the wrong format or style:
The only upside is that I look really cool in my blue light glasses. Though I think I might have to get real glasses sometime soon...
In Biology my professor has us talk to the people around us several times each class to explain what we're learning about to each other to make sure we are understanding. This is me, but not just me. Most people do this, too.
Me, either surprised that I got something wrong (which I shouldn't be, because I hate Greek myths and avoid them at all costs yet was still offended there was one I didn't know about) or when I'm trying to boost my confidence.
Professor, answering a question: "I can't draw a straight line, but you can't draw a straight line in history."
Sometimes this is what it feels like history has been:
Which of course makes my reply:
Talking about the Illiad:
Professor: "'Cuz Zeus is really smart. And Paris is very good looking but not that smart."
If the professor could actually talk to Paris, this is probably what she'd say.
Before that, we'd been talking about the Minoans and other myths. ("That's the word of the day: 'Slay the Minotaur'.")
Professor: "She falls in love with him, like, immediately, which is what happens in every great Greek mythology."
Later: "It's so Greek. Greeks loved a great tragedy. Romans liked more comedies."
Me, doing math in my head:
She is a brilliant teacher because she helped me out and made things make so much sense. In what is supposed to be my major. I might be having regrets. But not too many.
Me, almost everyday, explaining my messes to my roommate.
You can all bet that I'm fun to live with. I don't think I'm as eccentric as Sherlock, but then again, neither does Sherlock.
Me, getting way too invested into the weirdest and most unimportant things:
Professor:"It's called progress!"
Class: *silence*
Professor: "Okay, you all are clearly not as excited about that as I am."
I know my favorite incident so far. *heavy sarcasm* I brought up a topic from a reading and while there was one way it couldn't been interpreted, I was talking about something completely different. But, of course, it lead the whole course of the discussion in the opposite way for awhile, and it was long enough that I hoped everyone had forgotten it had stemmed for me. That is, until the professor brought it back to me with my name, saying: "So thank you for waking everybody up."
Me:
Me, after reading a ton of things and answering a million questions before realizing I have to work on homework for more than one class.
Student: "Nobody wants to do manual labor."
Me, in my head:
Guys, I can't tell you how long I've been wanting to use this GIF because I love this movie. My sisters and I say this to each other all the time.
You guys saw my last post with a ton of gifs talking about working with my dad. I'm weird and prefer heavy labor instead of things that take a lot of precision.
I am so obsessed with fiction I have already made a million references (which are good practice for citing things) just in answering discussion questions. These include:
The Bridge on the River Kwai (1957)
,
Star Wars: A New Hope (1977)
(though it should've been
The Phantom Menace
...oops),
Star Wars: The Last Jedi (2017)
,
The Avengers (2012)
,
Singin' in the Rain (1952)
,
The Lord of the Rings
,
Hamilton
,
Mary Poppins (1964)
,
The Princess Bride (1987)
,
Black Panther (2018)
, and
Loki (2021-)
.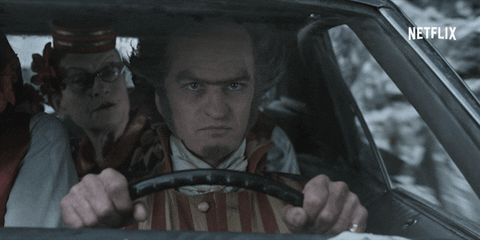 Or is history all just one melodrama?
You guys have now seen quite the look into my college experience. But enough about me.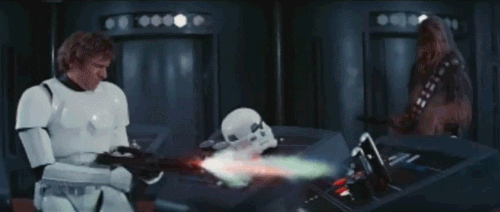 Tell me about what you have all been up to! If you are a blogger, then tell me which of your posts you enjoyed writing the most so I can be sure to check it out! Any questions about what any of these gifs are from? I'd love to talk about your favorites.
Until next time, my friends! Which won't be too long, as Hamlette is hosting her
Tolkien Blog Party
next week! You'll be sure to see something out of that for me then...
Have a great day!